Judy Johnson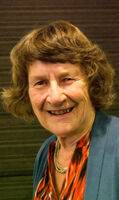 Judy was born on Sunday 23rd June 1940. She grew up in the Grampians area of Western Victoria.
Ian and Judy had three children, a son-in-law, plus a daughter-in-law, nine grandchildren and six great grandchildren. In later years Rob McKay was her very special friend with whom she shared many outback trips.
Judy moved to Ballarat as her husband was a teacher and she became an announcer on Ballarat Radio, 3BA.
For a number of years Judy processed many people's photos at various "1 hour" photo laboratories in Ballarat. As an extra challenge she also took wedding photos. The completed roll of film was given to the couple to use as they wished. On occasions, Kerry assisted her.
The Ballarat YMCA Camera Group was the first camera club which Judy joined in the early 1970's. (Now the Ballarat Photography Group). As the club's delegate for many years, she attended both the VAPS half yearly and AGM meetings held in Melbourne, often with the delegates of the Ballarat Camera Club. Judy also attended many of the VAPS conventions and when they were held in Ballarat, her home was a place that many were able to rest their heads at night.
Judy was awarded Life Membership of the Ballarat Photography Group in August 1994.
The opportunity to join the Ballarat Camera Club was taken and she was a member of both Ballarat clubs.
Entries of her photographs in club competitions resulted in many of her outback Australian images being accepted for the VAPS Interclub competition over many years. Judy was a prolific entrant in National Exhibitions too. She was a supporter of Geelong's International, VIGEX.
Frequently invited to judge clubs' monthly competitions, Judy was always positive in suggesting improvements to members' images.
Judy was also a member of the Victorian Nature Photography Group, a non-competitive club which met at locations offering a variety of subject matter for the landscape and nature enthusiast. Members appreciated her skills and willingness to share knowledge of both plants and photographic techniques.
As a result of the numerous outback journeys taken firstly with Roger and more recently with Rob, she created a collection of "Coffee Book" photos which are a delight to view. Judy was happy to share her outback journeys with many people who were made welcome into her home.
Judy had a fall in early July 2021 and dislocated her shoulder. Her health deteriorated quite quickly following other issues that became apparent and she passed away on Thursday 29th July 2021.
Rob and I were honoured to have known Judy for over forty-five years and will miss her companionship, advice and helpful nature.
Ballarat Camera Club has a dedicated award to honour Judy at their Annual awards night.