News
The 47th 2016 Ballarat National Entry Form is available for downloading under the Competition Heading
---
The latest Newsletter is located under the Information Newsletters 2016 tab.
MAY Competition Images have been uploaded. Check them out under the Gallery Heading.
---
Next Committee Meeting:
Wednesday 29th June 2016 Trevor Madin's house 7.30pm
---
June Fungi Photography Outing Sunday 26th. 10am at the Gardens of St Erth, Blackwood
Carol Hall has kindly agreed to take us on an outing photographing fungi.
This outing is dependant on there being enough rain in the area so the fungi
can thrive. Carol is a very experienced and knowledgable nature photographer who is
willing to share her expertise. You will need to bring warm clothes, waterproof pants if you
have them, camera, cable release, macro or close up lens, tripod, flash and a reflector is
also handy. See the email sent to all members for futher details.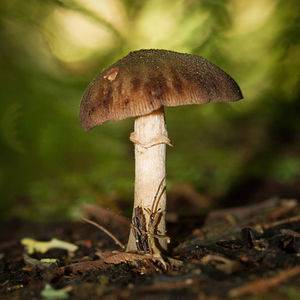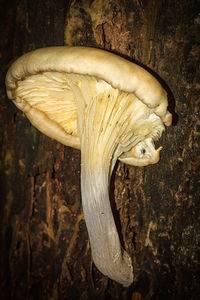 ---
July 4th 7.30 pm Informal Imaging Night
Location and topics to be decided.
July 10th Sunday: Workshop and Outing with Andrew Thomas. DONT MISS THIS ONE!
Sunrise Landscape Photoshoot.
We have a great opportunity to take part in a half day workshop/ photoshoot with Andrew Thomas.
Andrew is a very talented local landscape photographer who will guide us to places we normally never get to see.
He will explain and instruct us on the making of a great landscape image.
If you would like to see some of Andrew's work the following link will take you to his website.
www.andrewthomasphotographer.com
Cost $10 Members $20 Non Members.
Location to be advised closer to the date.

July 13th Club Meeting 7.30 pm Club Rooms : 616 Barkly St, Golden Point.
Open and set subject: "Flora and Fauna"
Judge:
Open and Set Subject: Deadline for the enteries for August's Competition and Set Subjects:Creative + Set Subject: Architecture
Set Subject Definition: A picture of buildings or structures( ancient, modern,interior or exterior)
Annual Dinner . Come along see members best work for 2016
The Annual Awards Night is fast approaching. The Midlands Golf Club will once again be the venue on Saturday 30th July.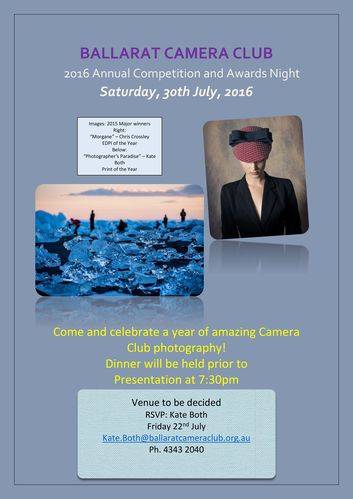 ---
August 1st Monday Informal Imaging Night 7.30pm
Location and topic to be advised
August 10th Club Meeting 7.30 pm Club Rooms : 616 Barkly St, Golden Point.
Open and EDPI Subjects: Creative and Architecture
Judge:
Open and Set Subject: Deadline for the enteries for September Competition and Set Subjects: "Chocolate Box / Postcard" Gender Battle
Set Subject Definition: A sweet and pretty image of something you would put on a chocolate box or postcard. NOT an image of a chocloate box or postcard.
August Workshop at the club rooms : Wed 24th August 7.30 pm ANOTHER ONE NOT TO MISS!
Peter Kerverec, one of Ballarat's long standing portait, wedding and commercial photographer will share his knowledge regarding preparing your images for competition.
Please bring along an image that you feel could be improved.
Cost : $5 members $10 for non Members